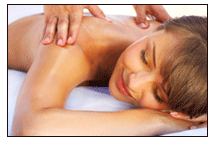 Wellness massage is defined as a personal service initiated by a patient to provide relaxation, increase body awareness and to create balance with the objectives of promoting health and wellness. This type of treatment is utilized to counteract the pressures of daily life that tend to wear down both the body and mind. By receiving regular treatments through relaxation massage, the ability to respond to stress is enhanced while invigorating the physical well-being.
The following are two examples of the types of treatment used in a wellness massage:
Swedish Massage promotes overall relaxation through the use of various hand manipulations. A light or hard stroking relaxes the muscle and improves circulation to surface vessels. This technique increases the flow of blood to the heart. Swedish also uses compression and percussion techniques, such as kneading, squeezing and friction, which aid in the stretching of muscles and tendons to increase the range of motion.
Pregnancy Massage is performed by our skilled massage therapists trained in prenatal massage for expecting mothers. This is a wonderful way to help relax the bodies and minds of women during the wonderful, exciting and sometimes uncomfortable changes of pregnancy. The massage can also relieve fatigue, enhance sleep and calm an active baby.
A Sports Massage is a deep tissue massage used to stimulate circulation, increase lymphatic flow, relax muscle spasms, relieve pain, increase range of motion and flexibility. Sports massage is important because one or all of the above mentioned can be compromised as a result of participating in a sporting event or working out. Injury prevention and improved sports performance are the positive results of regular sports massage.